Taking a lesson with me is ….
'the start of a journey. Everyone is different, they learn in different ways and want to achieve different things. But what we all have in common is a love for the instrument, and I aim to enhance that feeling and nurture your skills as a player.
As a professional drummer and teacher I am in the privileged position of being able to pass on my skills and knowledge. Whatever your level, you will receive structured and tailored tuition and my full support every step of the way, through our time together and beyond often, ex-students will pop into the studio for a cup of tea and a catch-up, a sort of after-sales' service, if you like.
---
Drum lessons for everyone
Whether you are an aspiring pro, an enthusiastic hobbyist, a gigging semi-pro, interested in doing grades or you just want to find out what it's all about, there is a plan for you. You may be interested to know that more than 50% of my students come to me as complete beginners, so if you are worried about a lack of experience then please rest assured you are not alone. You will find a culture of patience and respect at my studio.
Here are some of the student success stories I'd like to share with you: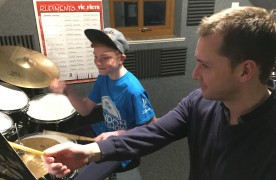 The Youngster ' Cameron:
When Cam first came to me in 2009 he was a complete beginner but it wasn't long before he started show a flair for drums, especially when we were playing with backing tracks. Some 6 years on, Cam has learned to read music, acquired solid technique, performed in numerous concerts and continues to develop as an improvisational and stylistic player. At the time of writing, he is about to sit his Grade 4 exam and has chosen music as a GCSE with drums as his main instrument. More importantly, he just loves to play and he has become more confident through drumming.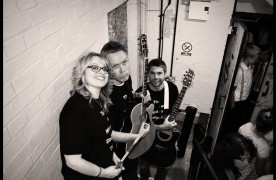 The hobbyist ' Linda:
Linda took her first lesson with me in 2012. In her own words, this is her story:
"I decided to take up drumming at the grand old age of 30, having had a fairly unsuccessful time of learning music at school.
I'd always been willing but it had never really clicked, so after thinking about drums for a really long time I contacted Martin.
Almost three years on I'm pleased to say he's not just my teacher, but someone I really respect and cherish. His patience is endless and there is always an opportunity to look at different ways of explaining things if you don't get it the first time around.
I can now read music, something I never imagined I could do, and have techniques in musical structure plus the skills to play along with my favourite songs.
Thanks to Martin I've also had the confidence to play on stage at the Ipswich Regent theatre as part of a band. He was even in the audience watching.
Whether you're a busy hobbiest like me, or looking to work through your grades I couldn't recommend Martin more highly. He is professional, kind and above all a great drummer and I look forward to learning much more from his as the years go on"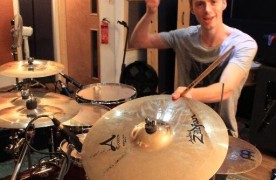 Music as a career ' Ollie:
Ollie started at the studio as a 13 year-old. He already had some nice skills but sought out my tuition as a means of bringing structure, clarity, discipline, reading skills and a stylistic breadth to his playing. In 2008 he passed his Grade 3, by 2011 he had passed his Grade 8 with Distinction. In 2014, with no A levels, he was awarded a place studying music at the University of Westminster, based on a drum kit audition. He can also be found playing in the clubs and studios of London as freelancer and recently recorded for Sony Music artists.